RACE INFORMATION
EDITION 2022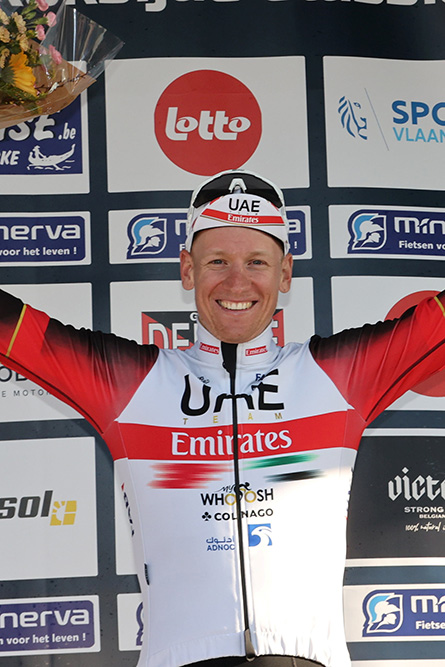 ANYWAY THE WIND BLOWS
Voorheen heette deze koers de Handzame Classic.
Maar vanaf 2019 is de wedstrijd bekend onder de naam Bredene Koksijde Classic. Onze wedstrijd vindt plaats in de heilige weken voor de monumentklassiekers. De koershonger voor renners, ploegen, toeschouwers is in die periode het grootst. Door onze datum beschikken wij over een assortiment van typische ingrediënten voor dit genre werk: Wind, heuvels, kasseien en waaiers.

Previously, this race was called the Handzame Classic.
But from 2019 this event will be known under the name Bredene Koksijde Classic. Our race takes place in the holy weeks before the classic monuments. The riders, teams and spectators are the most hungry during this period. With our date we have an assortment of typical ingredients for this kind of work: Wind, hills, cobblestones and echelons.
See the Race Through Our Eyes
CLASSIC: THE FINAL COUNTDOWN
Beautiful moments of the past
Bredene Koksijde Classic
1. Pascal ACKERMANN
2. Hugo HOFSTETTER
3. Tim MERLIER
Bredene Koksijde Classic
1. Tim MERLIER
2. Mads PEDERSEN
3. Florian SENECHAL
Bredene Koksijde Classic
No race due to pandemic of covid 19
Bredene Koksijde Classic
1. Pascal ACKERMANN
2. Kristoffer HALVORSEN
3. José Alvaro HODEG
Handzame Classic
1. José Alvaro HODEG
2. Kristoffer HALVORSEN
3. Pascal ACKERMANN
Handzame Classic
1. Kristoffer HALVORSEN
2. Adam BLYTHE
3. Kenny DEHAES
Handzame Classic
1. Erik BASKA
2. Dylan GROENEWEGEN
3. Gianni MEERSMAN
Handzame Classic
1. Gianni MEERSMAN
2. Antoine DEMOITIE
3. Tiesj BENOOT
Handzame Classic
1. Luka MEZGEC
2. Theo BOS
3. Edward THEUNS
Handzame Classic
1. Kenny DEHAES
2. Kenny VAN HUMMEL
3. Danny VAN POPPEL
Handzame Classic
1. Francesco CHICCHI
2. Marcel KITTEL
3. Adam BLYTHE
Handzame Classic
1. Steve SCHETS
2. Kenny VAN HUMMEL
3. Niko EECKHOUT