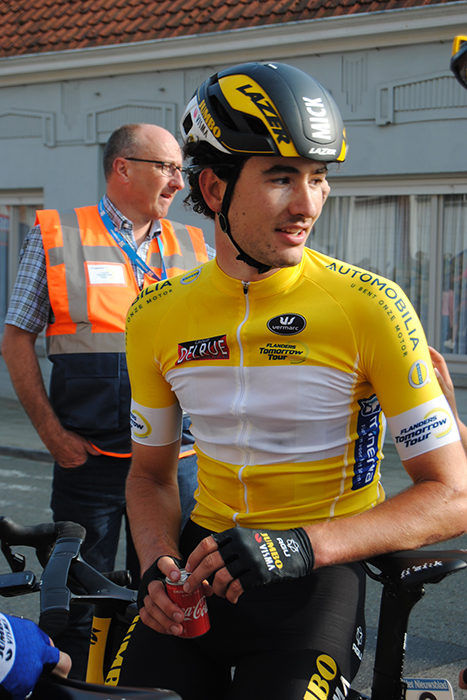 Discover the Tomorrow Tour
LOOKING FOR YOUNG TALENT
Met de medewerking van vier gemeenten organiseren wij een driedaagse rittenwedstrijd UCI MU 2.2 U. Voor deze rittenwedstrijd hebben wij gekozen voor het najaar. Als voorbereiding voor het WK is dit ideale periode.  Dat deze wedstrijd een meerwaarde is voor de nationale- en internationale kalender werd reeds bewezen van bij de eerste editie in 2021. Mick en Tim Vandijcke, Daan Hoole, Jaraad Drizners en William Levi zijn vijf renners uit de top tien die nu reeds een profcontract hebben.  
De naam van deze wedstrijd en de kleuraccenten in het logo verwijzen naar de faam van onze regio en dit met de klemtoon op Flanders en Tomorrow. De ervaring van ons team zal dit evenement nog verder op een hoger niveau tillen voor de renners van morgen. De bedoeling blijft om de top-U23 van over de hele wereld aan de start te brengen. En … daarbij zijn ook Belgische renners!

With the cooperation of four municipalities we will organize a three-day stage race UCI MU 2.2 U. For this stage race we have chosen the autumn. As a preparation for the World Cup, this is an ideal period.  The added value of this race to the national and international calendar has already been proven at the first edition in 2021. Mick and Tim Vandijcke, Daan Hoole, Jaraad Drizners and William Levi are five riders from the top ten who already have a professional contract.  
The name of this race and the color accents in the logo refer to the fame of our region, with the emphasis on Flanders and Tomorrow. The experience of our team will lift this event to an even higher level for the riders of tomorrow. The intention remains to bring the top U23 riders from all over the world to the start. And ... that includes Belgian riders!
Discover the Tomorrow Tour
See the Race Through Our Eyes
TOMORROW TOUR: THE FINAL COUNTDOWN
THURSDAY 1 SEPTEMBER 2022
Beautiful moments of the past
Discover the Tomorrow Tour
Flanders Tomorrow Tour
VAN DIJKE Mick - Yellow Jersey
VAN DIJKE Mick - Green Jersey
VAN BELLE Loe - Red Jersey