Zoals in iedere topsport … We go for it!!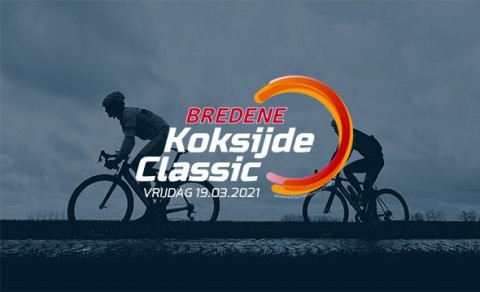 Op 19 maart 2021 zijn Bredene Koksijde Classic en Youngster Coast Challenge geboekt op de UCI-kalender.
Optimisme wordt de rode draad in de komende wielermaanden, weliswaar staat realisme steeds op de wacht.
Reeds geruime tijd zijn wij in stilte gestart met de eerste bladzijden van het draaiboek. Parcours, website, brochures, lay-outs, scenario's, enz.
Talrijke ploegen hebben zich reeds aangemeld voor beide wedstrijden. Zoals het voorziene deelnemersveld van 2020 zich denderend aanmeldde, wordt editie 2021 zeker ook een voltreffer qua kwaliteit.
In samenwerking met de beide partnergemeenten worden verschillende scenario's uitgewerkt. Samen wordt er dan op het juiste moment beslist over welke uitvoering het zal gaan.
Bij dit openingswoord van de editie 2021, wil ik toch met grote aandacht al onze partners in het bijzonder bedanken voor hun zeer positieve ingesteldheid bij de annulatie, en zeker naar 2021 toe.
Om een beeld te geven van onze move vooruit met de juiste stijl, stellen wij met trots onze nieuwe website voor www.bredenekoksijdeclassic.be. Wanneer je even daar doorheen surft, ben je onmiddellijk in juiste sfeer om terug aan te knopen met het normale stramien.
M.a.w. ongeduldig wachten op de volgende hoogtepunten van het wielervoorjaar !!!
Alles komt in orde, zeker weten.
On March 19, 2021, Bredene Koksijde Classic and Youngster Coast Challenge have been booked on the UCI calendar.
Optimism will be the leitmotiv in the coming cycling months, although realism is always necessary.
We have been quietly starting the first pages of the script for quite some time. Course, website, brochures, layouts, scenarios, etc.
Numerous teams have already registered for both competitions. The 2021 edition will certainly be a hit in terms of quality.
Various scenarios are being worked out in collaboration with the two partner municipalities. Together we will decide at the right time on which implementation it will be.
With this opening speech of the 2021 edition, I would like to thank all our partners in particular for their very positive attitude towards the cancellation, and certainly towards 2021.
To illustrate our move forward with the right style, we proudly present our new website www.bredenekoksijdeclassic.be. When you surf through it for a moment, you are immediately in the right mood to reconnect with the normal pattern.

In other words, impatiently waiting for the next highlights of the cycling spring !!!
Everything will be fine, for sure.
Bert Pattyn
CEO Bredene Koksijde Classic